Franz Kröger
Father Percy Anaab Abangdin

_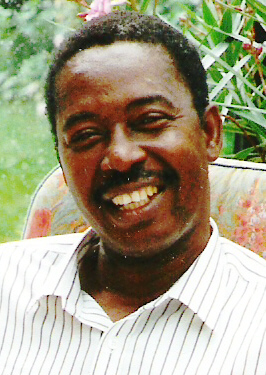 The untimely death of Father Percy on April 19th, 2001 has hit us deeply. It was a hard blow for his family and all his friends in Ghana and Germany.
Soon after the appearance of the first number of BULUK Father Percy helped us to write an article about the partnership between the Northern Ecclesiastical Province of Ghana and the Münster Diocese, also about his own activities in the partnership between parishes of the two areas.
On the occasion of his funeral rites at the Catholic Church of Wiaga on April 29th and 30th, 2001 a small booklet with the schedule of the celebration and also an extensive story of his life and work in Ghana appeared. So we will concentrate here more on his visits and activities in Germany.
Father Percy was born on August 10, 1950 in Wiaga-Sinyangsa-Goldem. He completed his education at St. Francis Primary and St. Martin's Middle School (Wiaga) in 1967. As it was his wish to become a catholic priest, he attended Nandom Secondary School, St. Victor's Seminary in Tamale and St. Peter's Major Seminary in Cape Coast for his theological studies. He was ordained priest on December 18, 1982 in St. Francis Xavier parish church at Wiaga. After that he worked in several Ghanaian parishes as a curate and parish priest (Tongo, Walewale, Bongo, Zebilla and Garu). He served as the President of the Diocesan Priest Association for four years and was chaplain of the Catholic Women Association in the Diocese.
In 1989, when with the help of Father Groskinski (Wiaga), a partnership between Bongo (near Bolgatanga) and Ribe (near Stuttgart, Germany) was established, he came for a three-months-stay in order to consolidate the links between the two parishes and others that had been established before. After a second visit in 1993 for one month, when he came with three more partnership delegates to Greven (St. Marinus Parish), Father Percy revisited Germany again in December 1999 following a four-months' course in Rome. He stayed at Greven, where he was the guest of a mission group, and at Hiltrup (Münster). In many visits and discussions he helped deepen the friendship between the partner-groups. Much of his time was spent by learning the German language in a ten-weeks' course. After a fruitful visit he left Germany for Ghana in July 2000. At that time nobody knew that this was to be his last visit.
Back in Ghana he fell ill and the calamitous diagnosis of the doctors was a suspected brains tumor. He was admitted to the War Memorial Hospital of Navrongo and was to be transferred to the Ankaful Psychiatric Hospital in Cape Coast. During the transfer he died from an acute kidney failure.
All who had known Father Percy were shocked by the message of his untimely death. For his friends in Germany this news came quite unexpected. Simultaneously with his burial in Wiaga a memorial service took place in Münster and Father Percy's successful activities for the partnership as well as his "sympathetic and open-minded character, formed by his deep religiousness" were appreciated by two Münster church periodicals.
We sympathise with his family and promise to keep his memory.