Ghanatta Ayaric
Reminiscent Joy and Blues
(Second and last part. Continued from BULUK 3, p. 44)
Some Inconveniences in Germany
I arrived in Bremen on a warm summer day in August. Pago invited me to Germany. He is a teacher, writer, musician, satirist, actor, one of my best friends and co-founder of the Reisende Werkschule Scholen where I was to be a guest teacher.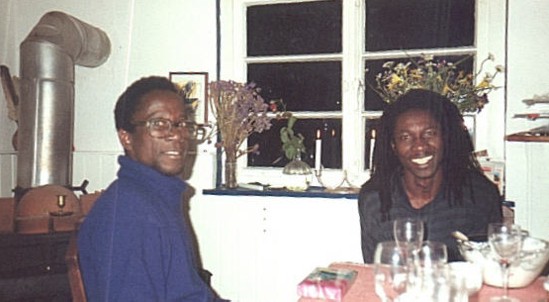 From the main railway station – Hauptbahnhof - I hailed a taxi to Bürgerwohlsweg (Pago's Street of residence) in an area called Weidedamm.. It took less than 10 minutes to get there. But Pago wasn't at home. Nevertheless, I was glad to have found the street and "house" – if I can call the structure that welcomed me a house. It was a one-room Parzelle (small garden house im Schrebergartengebiet for use in summer). It lacked every imaginable comfort, and could have been anywhere in a remote village in Ghana. It had transparent glass windows and I could look inside it. The only furniture consisted of a bed and a table with four chairs around it. Some books rested on a shelf that had been fixed to the wall above the bed. On the door was the name Pago Balke – artist .
I was disappointed. No, this is only his garden house. If he came round later we would go to his real apartment, a place more fitting and matching European living standards: cosy furniture, sound system, television, and a kitchen overflowing with milk and honey.
I walked round the garden, wanting to familiarise myself with my new environment. There were many apple trees in it. To the left and right were similar gardens surrounding houses of various shapes and forms, in some cases caravans. In the distance was a park, and I was to discover later that it was the Bürgerpark. Somewhere behind the Bürgerpark was the University of Bremen, a place I couldn't have imagined then that I would be its student for four years.
A bit tired from the journey I took out a big white quilt from my luggage, spread it on the grass, took a book and lay down to read. I had no idea when Pago would come home, but I was consoled by the fact that he was in Bremen and would come sooner or later. I had phoned with him from London and he knew that I would arrive that day.
I must have dozed off while reading. I was awakened by a the sound of a bicycle bell, and then I head my name, as if in a dream. It was dark, but the full moon had lit up the area. I raised myself up and saw the tall Obroni I had met in Accra two years earlier, descending from a bicycle.
He parked it and I got up and he welcomed me with a warm hug, smiling heartily and telling me that he was delighted we were meeting again. I was also very happy to see him again, but I was disappointed by the fact that he had come on a bicycle and not in a car. Was I also going to ride around on a bicycle, and live in that house for the period of my visit? Even my bungalow at Presec offered more comfort than Pago's house. But as we sat inside the house conversing later I noticed that it didn't bother Pago a bit that his house didn't look European at all. He was very proud of his Parzelle and said it was fun and nice living like there. These Obronis are really crazy, I thought.
We had supper and conversed into the night. I told him what I had done in the last two years and he asked me about Ghana and people he knew. He informed me that he was just starting a career as actor and musician. He had just released a new LP.
I felt like easing myself and asked Pago to show me the toilet. He lit a candle and took me behind the house and showed me a wooden structure. I thought he was joking. He gave me the candle and I went into the structure. Another bout of disappointment hit me. It was the kind of toilet that poor people in the urban areas in Ghana used. A low table with a round hole in the middle and under the hole a bucket to catch the falling faeces. There was some sawdust in a bucket standing in a corner to be used in covering the job after it had been done. I thought I was dreaming , and that I wasn't in Germany yet. It was difficult for me to imagine that a whiteman could freely choose to live without electricity, water, a TV or car! Pago offered me his bed and slept on the floor, using a mat and blankets. There was not enough space, so he had to push the table and chairs into a corner of the room.
The next morning we went with plastic cans to fetch water at a neighbour's house. I took a bath, from a bucket of water, using my hands. The area in front of the "toilet" served as bathroom. I hadn't taken a bath like that in the last two years. The only modern facility in the garden house was a telephone, and a tape recorder.
S.5
Pago showed me round Bremen during the next days and we visited some of his friends. He quit the Reisende Werkschule to start his career as artist, but he still had a say in the general matters of the school. He asked me if I would like to visit Scholen for some days. I said yes.
I was to travel to Scholen by bus in the next morning. We woke up late and had only twenty minutes to get to the bus-station at the Hauptbahnhof – a little less than a kilometre away. It was impossible to make it on foot, and the next bus-stop was nearly half a kilometre away from his house. Pago went to the back of the house and returned with a bicycle trailer. It was big enough to contain me and my bag. Off we went, taking a short cut through the Bürgerpark. We were a curious attraction for many passersby. A white on a bicycle with a black in a trailer behind was not a common scene. The eyes of many passersby accompanied us to the Hauptbahnhof bus station.
First Experiences at a German School
Scholen is a small village about forty kilometres away from Bremen. The building housing the Reisende Werkschule used to be a farmhouse. Pago and a couple of friends (the 1968 generation of social and political activists) bought, renovated and established it as school for juvenile delinquents, teenage children from broken families who no longer fit in the public schools. The Reisende Werkschule tries to rehabilitate the teenagers and give them some vocational training and the opportunity to acquire a school leaving certificate. Teachers and pupils live, learn and work together as a family. An important policy of the school is to travel to an African country for a period of three months, so that the pupils can experience life there.
Now, after more than a week in Pago's Parzelle, without electricity or water, the Reisende Werkschule Scholen came closer to the picture of Germany (Europe) my mind had been conditioned to. There were cars, TVs, electricity and water and some basic comforts.
We visited a number of places of interest during the first days, and I was in Scholen for two weeks in which period we did a lot of useful manual work; painting, carpentry, and erecting a glass shed for growing vegetables. I went back to Bremen after that. A few days later I returned to live in Scholen. I took part in the schools's activities and taught the pupils English.
When I went to extend my visiting visa I decided to apply for a temporary stay for one year. To my utter surprise, I was given clearance to stay in Germany for that period of time.
My original plan had been to return to Ghana or England after three months. This changed. But was it enough staying in the Reisende Werkschule and teaching English to difficult children whose minds were fixed on adventurous offences like stealing mopeds or shoplifting?
If I was going to be in Germany for that long, I was going to use the time to do something else for myself – learn German for example.
I wanted to do this at a standard German Language Institute, and not just informally. Scholen didn't have such a place. Besides I wasn't getting on well with one of the teachers – and he acted as head of the school, even though there was no fixed hierarchy. I think he thought I didn't fit there. Why? Because I had began growing dreadlocks, looking Rasta and listening to a lot of Reggae Music, especially Bob Marley. I have always loved Reggae and found Bob Marley a great musician and human rights activist. Unfortunately wearing dreadlocks, looking Rasta and loving Reggae music is also wrongly identified with marijuana-smoking. The want-to-be headteacher got paranoid about my rasta appearance and made me feel uneasy and unwanted.
I talked to Pago about it. He didn't want to start an unnecessary argument with his former colleague – they didn't also get on well with each other - and simply asked me to join him in Bremen, in his hut. If I thought I had escaped Pago's Parzelle and its lack of comfort, I was wrong. I was going back to ease myself in a bucket and bath from a bucket. No electricity, no TV, no water, no car!
My own hut
Pago had already arranged with friends for me to stay with them until he found a place for me. Their house was in the city, close to the Weser. They gave me the guest room. But I actually went there only to stay the night. I spent most part of the day at the Parzelle. The weather that summer was very fine, sunny and warm. I came to realise that spending the day outside in the Parzelle and green surrounding of Weidedamm raised my spirits. I would sit in Pago's garden and read, listen to music or do the gardening, mowing or picking fruit. I began to like the place, and camped there several times.
Sometimes friends would join us in the evening and we would make an open fire and have a barbecue with salad and cold beer. We would make music as well. Pago would strum his guitar and we would sing Bob Marley songs together, or we would play Kpanlogo drums and I would recite some poems – mostly the poems of Linton Kwesi Johnson, one of my favourite poets.
Pago and I always had something interesting to talk about; history, politics, society, music, environment.....
I learned a lot from him, especially the history of Germany. He always had the patience to answer my questions and in good English, even if we had to resort to the use of the dictionary from time to time. To help me learn German, he started to speak German to me and help me with the basic grammar of the language.
Meanwhile Pago was able to get a Parzelle through a neighbour for me for a moderate rent. It was a brick house and stood diagonally to his own in Köhlersweg. Only one Parzelle separated us.
Unlike Pago's mine had electricity, but no water. However, there was a tap and a broken pipeline in the four square-meter kitchen. The main connecting pipeline lay more than a metre deep and twenty-five metres away under the gate to the garden plot. There was no toilet, but having familiarised myself with Pago's it was not long before I could boast of a brand new bucket toilet of my own. It occupied a wooden shed I had constructed behind the house for the purpose. Whenever the bucket was full, I took it out at night and carried it in a wheelbarrow to a to a special place where its contents were emptied into a self-dug hole of about eighty centimetres deep. The annoying thing about the whole sanitary precaution was that I sometimes started digging only to hit on my previous deposits, and had to scan the ground for a virgin place and start digging again, my only source of light being a torchlight.
Living without pipe-borne water is unknown here, but this was the situation in which Pago, myself, and a few other Weidedamm inhabitants were. Fortunately, some neighbours had pipe-water and allowed us to use it with them. We fetched it in jerry cans.
Tired of always having to fetch water from the neighbours every other day, I decided to repair the broken water pipeline in my Parzelle, myself. I didn't have enough money to get it repaired by a plumber. Half of the money I brought to Germany had gone into paying for the language course I started shortly after leaving Scholen. This meant economising as best as I could.
I bought some new pipelines and borrowed the necessary tools for digging from a neighbour. Pago and another neighbour helped with the more technical aspects of the repair work, but I had to do the rest all by myself. I could continue to count on Pago's help here, but he had to go on tour to promote his new record.
I had to dig a trench, 25 metres long and 1 metre deep, from the main connecting pipeline under the gate right into the kitchen where the tap was. I worked hard during most part of the day, digging and shovelling soil, mud and clay. It was a back-breaking job. After ten days I was able to finish everything. Water flowed through the tap. I was very proud of my achievement.
I became Pago's supplier of electricity and water. A long electrical cable and water tube from my house to his did the marvellous job.
Studies in Germany                                         
One afternoon Pago and I went cycling in the Bürgerpark and around the Unisee. The University is a stone-throw away from the lake. It wasn't in full session then, but one could still get information on courses at the registrar's office. I also got some admission application forms and applied for a Lehramtstudium for the 1987/88 winter semester. By December I was given provisional admission, to start fully on condition that I took and passed the obligatory German language exam conducted by the university. I intensified my learning.
Summer and autumn passed very swiftly and winter broke in. Life in the Parzelle became hard. It was very cold. Luckily, Pago and I had been able to gather, saw and chop enough wood in the autumn and in addition, bought some sacks of coal for heating. Yet still, it was never really warm enough for me in my Parzelle. The walls were very thin.
On waking up in the morning the fire in the oven would reduce to only a single glowing coal, and the cold bit into the marrow. Rekindling the fire and stuffing the oven with wood and coals were the first things I did each morning. The room would be warm in less than half an hour, but imagine going to the back of the house to sit in the cold shed and feed the bucket that had to be emptied every now and then. To economise my wood and coals, I spent most part of the day at the university, in the library or cafeteria.
There were a number of African students studying at the university at the time and we shared company most of the time.
By August 1987 I ran out of money and couldn't continue to finance the language course. I was sad and depressed. Goomu tin goa age daanga saari. Wen alaa num kpiek zom, we would say in Buluk to console ourselves when we start to face difficulties. Translated literally, this means means The sleep should sleep and the days should be full. God grinds the fowl's millet into flour. Well, the sleep slept and the days were full. And it came to pass that I sat and passed the obligatory German exam. I could start studying at the University of Bremen.
Becoming a Secondary School Teacher in Germany
In 1992 I had my Erstes Staatsexamen under key and lock. Two years prior to that, at about 10 a.m on the 14th November 1990, I became the father of a son, Anabiik Schwarz (bears his German mother's surname), my whole pride!
"...I believe I can. I believe I can touch the sky...", the US R'nB star, R. Kelly sings in a song.
Yes, I believed I could fly, and I believed I could touch the sky. In my own opinion, I was the happiest African in Bremen.
As if the sky was not enough for me, my professor, who was also the head of the English Department at the time, called me to his office one day and informed me that he had always been very satisfied with my work as student. He added that he had recommended and nominated me for the Bremen Studienpreis for the year 1992 (a better student later got it, anyway). He went further to say that he was very impressed with my final degree paper on Bulsa Oral Literature (and I state this in all modesty). He was prepared to offer me a job as a teaching assistant at the undergraduate level, if I was interested in doing a doctorate degree programme. He would try to help me find a scholarship.
A year earlier he had introduced African Literature as a course of study. I think he needed an African to lend some touch of credibility to the new area. I was to be that person. He was himself a fan of Achebe, Soyinka, Ngugi and most of the first generation of African writers.
My vanity and sense of academic pomposity was flattered and pricked to fly beyond the sky.
The thought of being the holder of a doctorate degree and adding the title Dr to my name was very tempting. I actually made moves to start the doctorate programme, but then I realised after a few months that academic research work, with its stringent formalities, wasn't for me.
I wanted a tool to enable me start a humble career in teaching at the secondary school level. The most realistic tool towards the realisation of this wish was the Staatsexamen II.
Doctorate candidates and holders of doctorate degrees do a lot of research work.
Only phoney doctorate degree holders escape this commitment, like the numerous Ghanaian and Nigerian religious charlatans who add the honorable title to their lists of high-sounding titles – Reedemer Prophet Dr This or Messiah Dr That – to bamboozle a gullible congregation and add some status to their empty shells.
I was simply tired of student jobs. With the exception of one job - house and home renovation, which consisted of cleaning and preparing walls, painting, wallpapering, carpet-fitting and so on and so forth. Most of the student jobs I did were very menial and really degrading; washing dishes in restaurants, unloading sacks of cocoa or coffee beans, and sorting fruit at the Bremen Harbour. I didn't come to Europe to wash plates for a livelihood.
Morever, the jobs at the harbour haunted and hurt my sense of solidarity with the impoverished cocoa and coffee plantation workers in the producing countries. I felt guilty at the thought of my active part in the despicable chain of their exploitation, beside the physical drudgery and the backaches that used to plague me as a result.
Luck was on my side. In April 1993, I could start my Referendariat – Teacher Trainee course – at the Hermann-Böse Gymnasium in Bremen. Two years later I obtained my Zweites Staatsexamen, and now I teach at a German state secondary school. A dream has come true.
 But I still have a dream, like Dr Martin Luther King Junior. And Langston Hughes advises us to hold on to dreams. Without dreams, life is like a broken-winged bird which cannot fly .
I would like to be a hobby shepherd and farmer in the country in Buluk one day. Above all, I would love do some social work among my people.
Note: A German version of Ghanatta Ayaric's story can be found in:
M. Grabenheinrich und S. Klocke-Daffa: 15 Frauen und 8 Ahnen. Leben und Glauben der Bulsa in Nordghana. Münster 2005, pp. 95-105