Early History of the Presbyterian Mission of Sandema
Many Europeans imagine that the members of traditional religions are inclined to reject all kinds of Christian missionary work in their villages and expect their chief to prevent the establishment of mission stations. When, in 1927, catholic missionaries were looking for a suitable place for their mission house, the Sandemnaab was quite willing to offer a convenient site for their houses and church. In fact, he was even resentful, when they chose Wiaga as the more central Bulsa village for their starting point.
In 1956, the Presbyterian Church sent its first missionaries from the then Gold Coast to the Bulsa area for an initial inspection regarding the possibilities for a future mission station. The Paramount Chief Azantinlow was pleased to give them a site north of the market centre in the Kobdem section.
It was Rev. Colin Paton and a groups of missionaries who had toured the North to find an appropriate place for a new station. The reasons for choosing Sandema can be found in their report (Berinyuu, p. 108-109):
We are agreed in recommending Sandema as the place where a missionary should be stationed to open Presbyterian Mission work in the Builsa country. It is the seat of the Paramount Chief, the District Council and has the only Middle School in the area, the densest population is in the area round it, it has an all season road to it... The main Roman Catholic centre is not at Sandema but at Wiaga, 6 miles away, where there are at least two priests stationed. There is however a Roman Catholic "catechist" at Sandema, and a small Roman Catholic chapel.
 While the Catholics had started to establish first contacts with the local people by means of schools, Paton wanted to concentrate on mission work in the compounds. He built the first mission house in Kobdem, doing language studies, translating parts of the bible to provide Buli texts for the Divine Service, offering night school classes to young Bulsa and starting contacts with the people of Chuchuliga. Relations with the Roman Catholic Mission seemed to be better than expected. Paton writes in his report (p. 120):
After our arrival in Sandema, I waited till the Duncans had arrived before calling on the White Fathers at Wiaga, but before we had done that, they had called on us in our absence, and had also very kindly written offering any help we needed when they heard that our temporary kitchen of grass mats had gone up in flames. When we did visit Wiaga, we had a very friendly welcome from Fr Lemaire, who said that while they obviously regretted our coming into the area, he saw no reason why we should scrap like cats and dogs.
In March 1957, Rev. Robert Duncan, like Colin Paton a Scotsman, arrived in Sandema together with his wife Louise, a qualified nurse. They successfully continued the work of the Patons, not only in Sandema, but also in Chuchuliga-Namonsa, where they were able to establish an outstation under the supervision of Johnson Akobrika, a catechist from the Sandemnaab's family. The Presbyterian mission work even crossed the tribal boundaries when they extended it to Chana and Katiu, north of Sandema in the Kasena area. Louise Duncan established a mother and baby clinic in Sandema, which soon developed into a general medical clinic.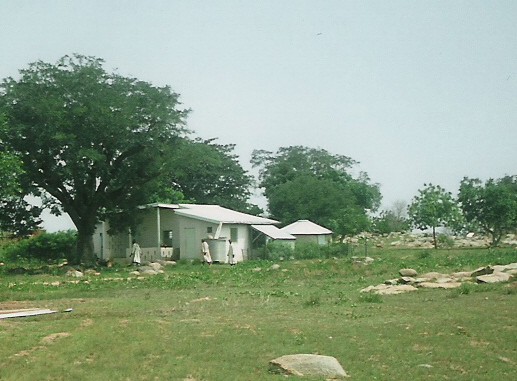 Rev. Alan Byers, who took charge of the Presbyterian Parish in February 1960, managed to acquire a suitable site for a stone chapel in Sandema. It was dedicated in July 1963. The clinic was extended and the donation of a landrover made it possible it transport sick people.
A small episode, remarked in passing, might be worth mentioning. When pastor Byers was returning from a leave in Britain (1966), he met a young anthropologist from the German University of Münster on board his ship. It was Prof. Rüdiger Schott, who was on his way to do his first extended field research in Northern Ghana. He was, however, not yet quite sure, where to start. Pastor Byers invited him to come to Sandema and live in the Presbyterian Mission. The decision to do research among the Bulsa was the beginning of half-a-century successful anthropological research by the University of Münster in this area (Cf. also Buluk 3, p. ).
After Pastor Byers, Rev. James Agalic, the first Presbyterian Bulsa pastor, took charge of the parish. Today, the mission station has become a large enterprise with a flourishing agricultural station, an efficient clinic, office buildings and all the other institutions started by the early missionaries.