Events (2006-2008)
Sources: Danlardy Amoak Leander, Wiaga (D), (Internet:) ghanaweb.com (ghw), Ghana Homepage (GHP), ghanadistricts.com (ghd), Agoabe Anamogsi (Ag) and oral information given to F. Kröger
2005 (addendum)
February, The University for Development Studies (Tamale) honoured Sir Ayieta Azantilow, Paramount Chief of Bulsa Traditional Area with a Doctorate Degree.
2006
March: (D) Mr. Hilary Atuik, a candidate for the parliamentary election in 1981 (Third Force Party) and a keen promoter of development in the Bulsa District, died in Bolgatanga Regional Hospital.
March 27: (D) A bicycle race took place between Wiaga and Sandema as part of the Wiaga Easter Convention.
July 31st: (ghw) After informing the Sandem-naab, Mr Joseph Adakula... at the weekend renounced his claim to the Chuchuliga skin. [The new] 'Chief Francis Asangalisa II thanked Mr Joseph Adakula for his decision and urged him to work closely with him to ensure peace and development in the area'.
August 24th and 25th: A heavy rainstorm hit the Bulsa District. It submerged large areas of food crops, destroyed houses and claimed the lives of at least three persons. About 500 people were displaced and accommodated in Sandema Preparatory School and the Youth Leadership Institute. The embankment of the main road from Sandema to Navrongo, only recently constructed, was washed away.
November 14th: The Chief of Sandema (Sandemnaab) and Paramount Chief of the Bulsa Traditional Area, Dr. Ayieta Azantilow, died in the Chief's Palace at Sandema. He was approximately 106 years old and had been in office for 75 years, which means that he was the longest reigning traditional ruler in Ghana.
(An appreciation of his outstanding personality, his achievements in the field of development, environment, education and the promotion of tourism will, we hope, appear in Buluk in due course (cf. also Buluk no. 3, which was dedicated to Naab Azantilow).
2007
January 27th: The mortal remains of the Sandemnaab, Dr Ayieta Azantilow, which had been kept at the Bolgatanga Regional Hospital mortuary, were laid to rest in the Palace at Sandema. Hundreds of mourners were present, among them several Members of Parliament, former ministers and a representative of the Asantehene Otumfuo Osei Tutu II. Until a new chief is elected, Nansiung-naab Alex Tampuri Azantilow will be the regent.
August 7th: (GHP) President J.A. Kufuor swore in Mrs Agnes A Chigabatia from Chuchuliga as the Upper East Deputy Regional Minister. She had been elected a Member of Parliament for the Bulsa North Consitituency in December 2004.
(Cf. also Buluk 5, Social and Cultural Change - Emancipation, and Buluk 4, The Parliamentary and Presidential Elections... p. 11)
September 15th: (D) Malam Tanco died and was buried at his father's house in Wiaga Chiok (cf. Buluk no. 4, p. 61)
December 18th: (D) The annual Fiok Festival was celebrated with only Sandema people attending it.
2008
April 1st (ghd): 'Mrs Agnes Chigabatia, Deputy Upper East Regional Minister, inaugurated Builsa Community Radio at Sandema... to use it as a rallying point for unity, trust, harmony and progress in all human endeavours...' She was joined by Dr Marius Haas, German Ambassador to Ghana and Mrs Evelyn Decorps, Deputy Head of Mission of French Embassy to unveil a plaque. Radio Bulsa was established by the Foundation for Integrated and Strategic Development (FISTRAD), an NGO, and jointly financed by the German and French Embassies in Ghana at a cost of 14,000 Ghana cedis.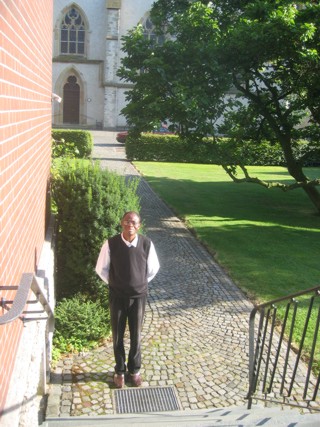 May 20th (Ag) During heavy showers of rain a gold mine collapsed in Kadema. Several miners were killed. Only on May 23rd could their bodies be retrieved.
July 15th - August 27th: Dr. Alfred Agyenta, born in Wiaga and working as a lecturer at St Augustine Seminary in Tamale, paid another visit to Germany. During this time he took charge of the Maria Himmelfahrt parish at Füchtorf in the diocese of Münster. He had occasion to meet many of his German friends to share ideas about new publications, new tendencies in anthropology and theology and the progress of the second edition of the Buli dictionary.
October 13th: Kofi Anan, the former UN General Secretary, visited Münster (Germany) to receive the Westphalian Peace Prize. He was enthusiastically welcomed by thousands of Germans and Ghanaians living in Germany. Mrs. Margaret Lariba Arnheim from Gbedema greeted her countryman and had a personal talk with him.
Photos (from left to right): 1. Margaret Lariba Arnheim and Kofi Anan; 2. Margaret Lariba Arnheim and Berthold Tillmann, Mayor of the City of Münster; 3. Kofi Anan with Frank Walter Steinmeier, German Foreign Minister, and Berthold Tillmann on the balcony of Münster Townhall.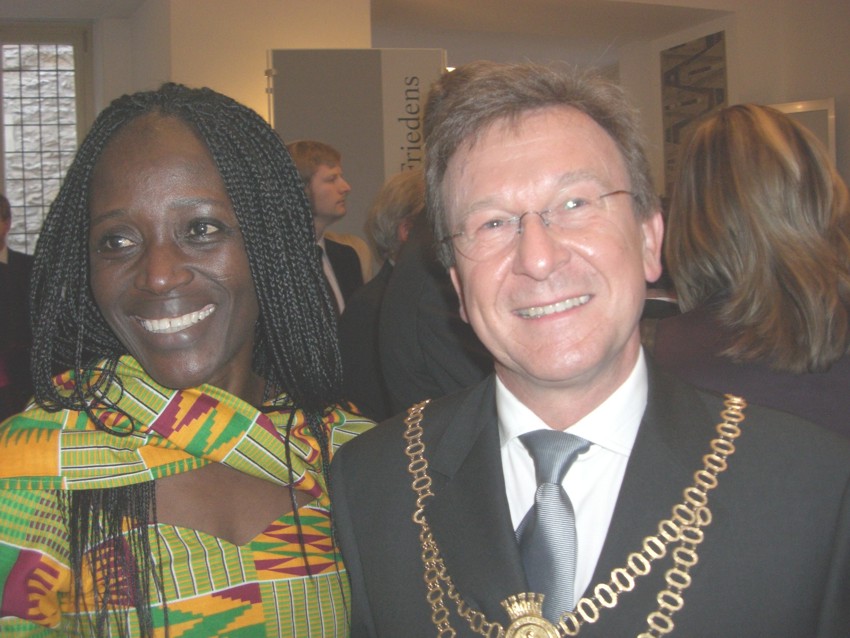 November 10th: The 2008 National Farmers' Day was celebrated at Sandema. After a speech held by Mr Alhassan Samari, Regional Minister of the UER, Mr Thomas Alonzi, Builsa District Chief Executive, announced that the District Assembly "had acquired eight tractors which were hired out to farmers" and also ten water-pumping machines "which would be given out to farmers' groups to enable them to undertake dry-season agricultural production".
Mr Awonkawon Atimbila from Kanjaga won the "District Best Farmer" award.
2009
February: President John Atta Mills nominated Mr Alhassan Azong, Member of Parliament for Bulsa
South, as a Minister of State, Office of the President. Congratulations!
May 26th (Monday): After overcoming a heavy malaria, the Rev. Fr. Joseph Grosskinsky, who had been a priest of Wiaga Catholic Parish for many years, had a sudden fall and was admitted at Bolgatanga Hospital where he died around midnight. His burial in Navrongo took place on June 12th.

June 5th: On this day it was announced in the Bulsa area that the Hon. Norbert G. Awulley, a former teacher and member of parliament (2000-2004), had been appointed District Chief Executive (DCE) of the Bulsa District. Congratulations!