Franz Kröger
Good Family Lodge: A Herald of Future Tourism?
I
t has never been a problem for strangers to find suitable accommodation in the Bulsa area. Several times during my first visits to Sandema, I lived in the Sandema Resthouse in the South of the Market Centre. The Christian mission-houses, too, will help a stranger looking for a good, clean accommodation. In 1978 I was given a nice room in the Presbyterian Mission of Sandema; other anthropologists and linguists like Dr. Piet Konings (Netherlands) and Dr. Anne Schwarz (Berlin) were welcomed in the Catholic Mission of Wiaga. Often the stranger is offered a temporarily empty bungalow. When I was teaching at Sandema Boarding School in 1974, I lived in one of the teachers' quarters on the campus; and in 1981 I established myself in a bungalow which had just been given up by the Wiaga Police Station.
The most exciting stay, especially for a non-African visitor, is certainly in a native compound. My first attempt living in a traditional Bulsa family started in Sandema Kalijiisa Yongsa in 1973. When I timidly asked if it might be possible to live in a Yongsa homestead for a time, I was given the choice of 21 compounds. Since 1984 I have stayed eight times (altogether nearly two years) in Anyenangdu Yeri (Wiaga-Badomsa), with one of the many wives of the house cooking native food for me. This is the only way I can take part in traditional Bulsa life for 24 hours a day.
Since the turn of the millennium, in a time of a countrywide economic boom, many new modern buildings have been constructed in the Bulsa District, including hotels and guest houses. In 2006 I was able to visit the Good Family Lodge, about five km south of Sandema Centre and opposite the Old Primary School.
My first impression is that this is a hotel that will certainly meet the expectations of all visitors who need a certain comfort at a reasonable charge. The rooms are comfortable, clean, and mosquito-proof. Each room has an electric fan under the ceiling, and the more expensive rooms have showers, baths and even television sets. A printed poster in front of the entrance informs the visitor about the prices for a 24 hours'stay:
(1) 90,000.00 Cedis: T.V., toilet, bath, table and chair, fan [in February 2006: 105,000.00 Cedis, = 10.5 €]
(2) 70,000.00 Cedis [7 €]: table and chair, fan, bath and toilet
(3) 40,000.00 Cedis: single bed, toilet, table and chair, bath, fan [2006: 45,000.00 Cedis, = 4 €]
(4) 30,000.00 Cedis: single bed, fan, chair and table [2006: 35,000.00 Cedis, = 3.5 €]
During my February 2006 visit it was not yet possible to have any warm meals or breakfast at the hotel; soft drinks and sweets were on sale at a kiosk. Also, the lounge contained only a television set and some chairs; I was told that a park with tropical trees is to be established soon in front of the house.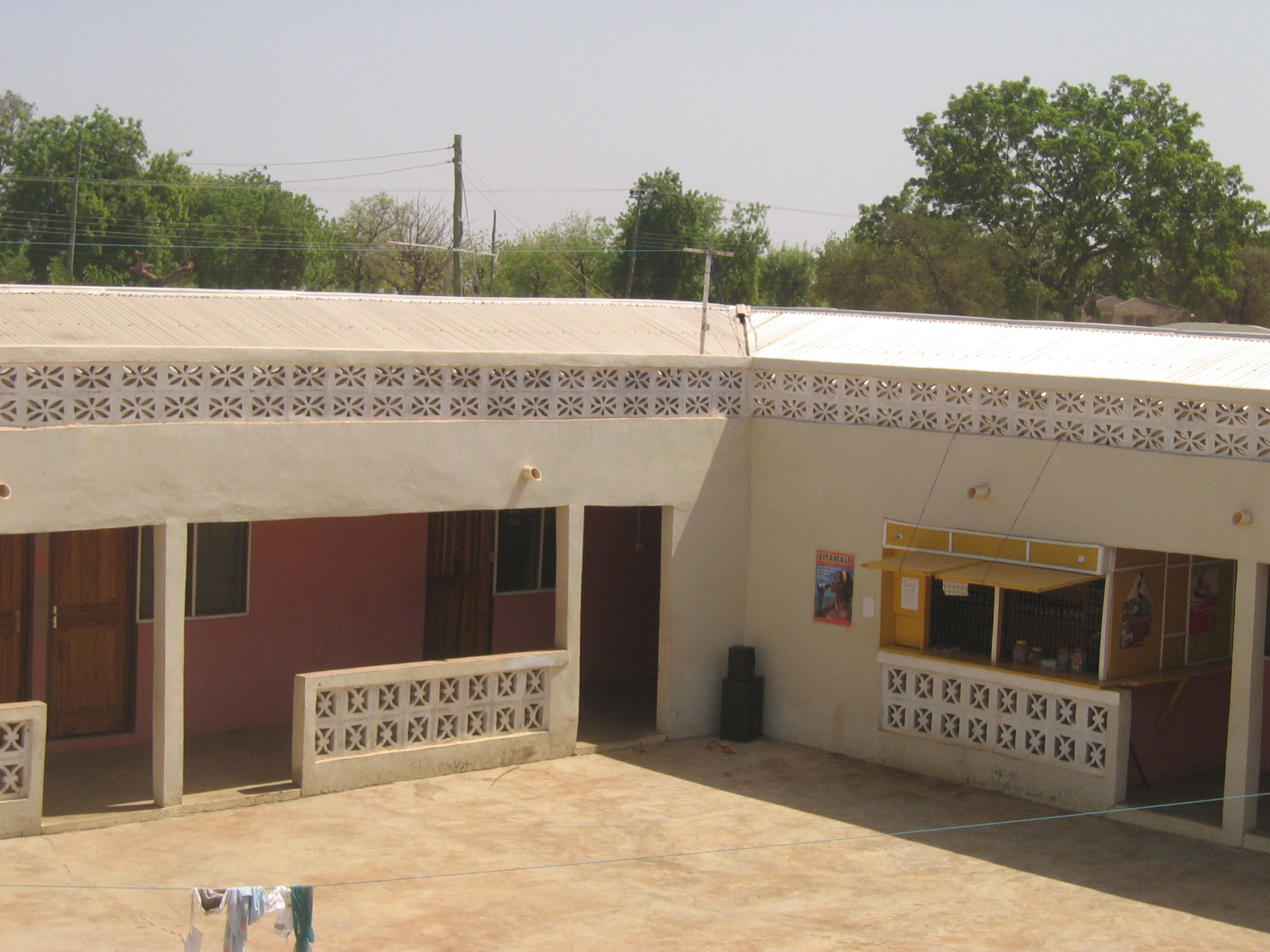 The establishment of relatively luxurious hotels prompts one to ask: For whom were these hotels built? Most Ghanaian visitors from the south who visit friends or relatives find accommodation with their families. Official visitors, political leaders, high officers etc. often leave the Bulsa area again after a day's touring the district.
Tourists from other countries, European and American visitors to Ghana, are certainly included in the target group of the hotel owners (in case of Good Family Lodge a Bulsa family which also owns one of the biggest food and hardware shops in Sandema). Experts have examined the possibilities for moderate tourism in the Bulsa area. Already many Ghanaian and non-African "tourists" visit the annual Fiok-Festival at Sandema. Further attractions might be the crocodiles of the Wiaga Kunjiing tanggbain, the caverns in which Bulsa took refuge, when Babatu, the notorious slave-raider, haunted the country. A visit to a traditional Bulsa compound with potters and basket makers, or to a local blacksmith would certainly be attractive to many visitors.
Tourism would certainly promote the ongoing social and cultural change, but we do not know whether it would be for the good or bad of the District. Moderate tourism might give more jobs to young and enterprising young people and prevent them from emigrating to the big southern towns. Though it might modernize many spheres of life, it could, on the other hand, give new impetus to traditional crafts, whose products might be welcome souvenirs to tourists from other cultural areas.