Agoabey Albert (Anamogsi's son)
The Sage and Legend father
Mr. Anamogsi, who was also called Ana or Baba in his family and among his friends, was born in 1930 in Wiaga-Badomsa in the Upper East Region of Ghana. His father Anyenangdu and his mother Awonlie gave birth to him in a family house called Aluechari Yeri which is currently an abandoned home termed Aluechari Guuk. Soon after the birth of Anamogsi, Anyenangdu and his immediate family moved a short distance and founded their own compound known as Anyenangdu Yeri. During this period Anamogsi was the only son of Anyenangdu, and the idea of building a new house by Anyenangdu caused a lot of speculations from neighbours that "something could happen and Anyenangdu's only child might die and the house collapse". In fact it's usual for families to move out and build their own homes when they start having many children and therefore need enough room to accommodate them. So in Anyenangdu's case the neighbours believed that it was not very prudent to build his own compound since he had only one child. This incessant superstitious criticism could not discourage Anyenangdu and his family from building their house. As an adult Anamogsi's intrinsic motivation was to have a lot of children, so he married many women. Becoming the father of many children and obtaining a workforce which was more than those who claim they were better off than him, aroused the unscrupulous jealousy and envy of other people.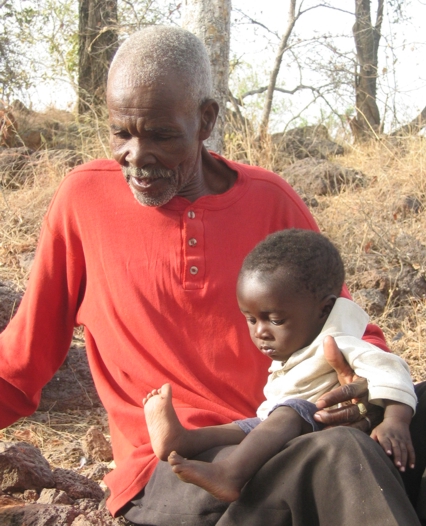 After Anyenangdu's death Anamogsi succeeded his father and was in charge of the family properties and played the role of a family head not only of his immediate family but also of the surrounding neighbours. In my opinion he cannot be described without using adjectives like industrious, philanthropic, kind and hospitable. An affable and agreeable man, he attracted a lot of people who, in one way or the other, wanted his company and friendship. It is no doubt that this man has left a legacy for his generation and the community as a whole, especially in the areas of agricultural and socio-cultural activities.
Political life of Mr. Ana
According to Aristotle 'man by nature is a political animal' Mr. Anamogsi was not an exception to this. His popularity was also attributed to his active participation and interest in politics in the district. Even though he never contested for any higher office like "Member of Parliament" he, however, was able to make it to the high office of the chairman of the New Patriotic Party (NPP) in the Builsa North Constituency. He was considered a loyal and staunch member of his party and contributed effectively towards its success in the district. Owing to his sound wisdom and integrity, he assisted in the arbitration of conflicts within the party. Meetings within his constituency were mostly held in his house. Above all, his large followers automatically gave him their full support in matters relating to their party, something most politicians of other political parties always struggled for.
Occupational life
Mr. Anamogsi was a farmer, who, having acquired farming skills from his father, expanded his farms and produced a lot of food crops including maize, millet, rice, groundnuts, beans and planted trees (mango, tiik, niim trees etc.). Today his children still enjoy the fruits of his industry. Starting with only hoes and cutlasses as his main farming tools and through hard work, he was able to buy cattle later and used bullocks to plough his farm lands. This facilitated the expansion of his farming business. Because he was very courageous and determined to get ahead, he accumulated and saved a lot. It was no wander that in the 1980s he was able to afford a tractor which was not only used for commercial business but for the benefit of his family and was also made accessible to his neighbours as well as the community as a whole.
History has it that best farmers in Buluk cannot be mentioned without a tribute to Mr. Anamogsi. He received the best farmer's award several times for his great achievement and actually laid the foundation for many agricultural projects in the community. It could be said that the success of his generation in the farming sector is partly due to his effort as an innovative farmer.
Socio-cultural life
Mr. Anamogsi's sphere of interest was not limited to just one area. He was also a cultural leader. He trained his children in cultural dances which they mastered to a high degree and were well-known in the whole District. The group was named after him "Ana dance group" and was often invited to festivities and other important ground durbars. His effort in forming this group did not only bring a good name to him alone but to the district as well because it represented the district in cultural dancing competitions at the regional level.
Quite apart from that, the yearly celebration of his father's (Anyenangdu's) death anniversary brought many people together. The supply of food and drinks which was provided during the dancing activities from his compound to Wiaga market attracted a lot of people. A large picture of Anyenangdu taken by Dr. Franz Kröger (considered by Anamogsi as his first son) in 1973, a short time before his death, was carried at this procession, so that all people could see his photo and remember Anamogsi's father.
Notwithstanding the fact that he was hospitable, the timely visit of his white friend from Germany gave him some kind of respect and adoration from the public as it baffled most people. They could not understand why a white man was coming to stay with somebody who could not interact with him in the English language and not with highly educated people within the district. Rumours about this extraordinary friendship were fairly common among illiterates.
Anamogsi was also a traditional birth attendant who assisted a lot of women in child delivery. It was in his records that there were never any casualties and he was never challenged by any serious complications in this regard.
It was not surprising that this man was indeed a good daddy to his children. No one can dispute the fact that he was morally outstanding in the light of tolerance, patience and love of peace. He was a father loved by all because of his sagacious judgement of family disputes and his indiscriminate love and share of wealth among his children. This was one of the unifying factors that promoted togetherness and cooperation among the entire family members. He was also seen as an inspirational speaker and has never ceased sharing experiences and advice to his children during his lifetime.
Shocking sorrow
The sudden disappearance of the hero, legend, and the umbrella that gave shade and protection for many people brought a lot of sorrow among the souls under his protection. What a sad event that occurred on 15th July, 2010! If death was a prison, this man would not qualify or deserve to go there. What an excruciating loss! What an unforgettable experience that befell the family of Aluechari! Where and when can we have his fatherly love again on earth? The Almighty God loves him more than we do, but let us pray that he will not forget us in heaven.
MAY HIS SOUL REST IN PERFECT PEACE IN PARADISE.