Water Pipelines in Wiaga
(From an interview with Mr Dominic Atibil)
Mr Dominic Atinbil
Many years after Sandema and Chuchuliga had been connected to the water supply system, it was Dr. A.S. Kankoh, the retired veterinary surgeon, who initiated the Wiaga water supply scheme and became the first chairman of the Wiaga Community Water and Sanitation Board.
In 2004/05 new boreholes were dug by a firm called Foramat, and in 2008 a group of Chinese engineers and workers began installing the pipes and the pumping system. To my knowledge it was the first time that a Chinese group of experts was involved in a big project within the Builsa District. These people had rented a house in Wiaga, where they lived together without close social contact with the Bulsa population. In spite of the generally good co-operation with the Bulsa workers and administrative officers some problems, specific to this new situation arose.
1. The language problem: Most Chinese could speak only a little English which made a fluent communication difficult.
2. On the whole, there were not enough competent people.
3. Some materials, provided by the Chinese, got broken too early.
The installation of the pipes and pumps was not a Chinese-sponsored development project. Rather, the costs were paid by The World Bank (90%), the District Assembly (5%), and the Wiaga Community (5%).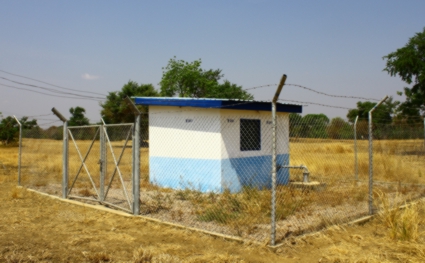 Borehole with Pump
In 2010 the installation was finished, but it was criticised because only the smaller part of Wiaga benefited from the new facilities. That is, only the centre of Wiaga (Yisobsa), where about 5000 people live (about 60% of the households) were provided with pipe-water. There are some plans, however, to extend the system to other parts of Wiaga in the near future. While at the moment all of the taps are outside of the houses, about 70 families have applied for water taps to be installed inside their residences.
Some subscribers regretted that the water was "sold" (admittedly at a low cost-recovery tariff) after the community was used to free water supply from borehole-handpumps. The fees were also used to cover, for example, Chlorine and other water treatment materials.
At the moment the whole scheme is organized by an executive committee, which meets once a month and a board of thirteen members (e.g. chairman, secretary, treasurer, the assemblyman for Yisobsa, another deputy from the District Assembly and a water user) which meets every three months. Dr. Kankoh's successor as the chairman of the board is Mr. Dominic Atibil from Wiaga Chiok. I thank him for giving me information in an interview and in the form of a brochure.