Ghanatta Ayaric
Professor Sylvester Abanteriba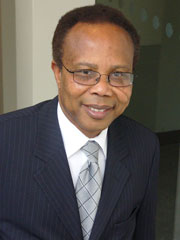 I knew him in the late 1960s. I used to see him in Sandema. That must have been during his secondary school days. He's from Chulchuliga, one of the 14 towns and villages that form the Bulsa North and South Districts of the Upper East Region in Northern Ghana today.
The few secondary school students in Buluk at the time were considered a privileged group by virtue of their education. And he was a student at the Oxford of secondary schools in North Ghana in those days, Navrongo Secondary School. It was impossible not to notice him. Good-looking, conspicuously fair in complexion and bespectacled, he had an aura of friendliness, respectability and intellectuality about him. My memory also recalls him as a quiet and gentle young man.
I've not seen him since that time, but I heard about him when I was preparing to leave Ghana in the early 1980s. Attenuating circumstances had forced me to look beyond the borders of Ghana for opportunities for self-improvement in faraway Germany.
I wanted to know if there were any Bulsa living in Germany. There couldn't be many. The only Bulsa I knew and with whom I was already in contact was my cousin, Margaret Lariba Bawa, who lived, and still lives, in Münster. I thought the Bulsa Youth Association would know if there were other Bulsa in Germany, so I contacted some of its members in that connection. Someone mentioned the name Sylvester Abanteriba. It rang a bell, and my memory put a face to the name. But all that my informant knew was that Sylvester Abanteriba was a student in Hannover. That wasn't going to help much, was it? When I finally arrived in Germany and started studying at the University of Bremen, the only Bulsa contact I had was with my cousin, and she neither knew nor had ever heard about a Bulsa student in Hannover, so that ended my attempt to locate Sylvester Abanteriba.
Sylvester Abanteriba as a student in Hannover, Germany (1983)
But our paths were meant to cross in some way. In 2013, a friend of mine, Ibrahim Alabira, a member of the Tamale branch of Old Navascans Association (NABIA), shared information (attached a photo as well) on Professor Sylvester Abanteriba in his Facebook news feed. It didn't take me a second to recognize the man in the picture. The young student I knew in my childhood is an esteemed academic today, a top name in the area of propulsion systems, and a world citizen.
Very impressed, and proud of Professor Abanteriba's academic achievements, and wishing to update him on new developments in Bulsaland as well as establish contact, I sent him copies of our Bulsa journal (Buluk, Journal of Bulsa Culture and Society), requesting at the same time permission to feature his biography in the next issue of the journal. I was very delighted and honoured when he acknowledged receipt of the copies and humbly agreed to my request. I reproduce his biography as follows:
• Professor Sylvester Abanteriba is the Director and Founder of the RMIT International Industry Experience and Research Program (RIIERP) http://www.rmit.edu.au/browse;ID=abottau95h64 and Research Leader/Professor of Propulsion Systems in the School of Aerospace, Mechanical and Manufacturing Engineering at RMIT University in Melbourne, Australia http://www.rmit.edu.au/browse;ID=7zfvsildns0n
• He holds a Doctor of Engineering degree from the University of Hannover, Germany, and a Master of Science (Mechanical Engineering) degree from the University of Timisoara. He has a distinguished career as a researcher and an academic.
Professor Abanteriba is now the Chairman of the Board of Directors of the International Energy Foundation, IEF http://www.energy-ief.org/
• He is a member of numerous international professional bodies, which include the American Society of Mechanical Engineers and Verein Deutscher Ingenieure (Association of German Engineers) and the Fellowship of Australian Writers. He dabbles also in the literary arts, as a hobby, and is the author of a science fiction novel under the title of "Poetic Retribution from Mars."
http://www.panmacmillan.com.au/display_title.asp?ISBN=9781920785673&Author=Abanteriba,+Sylvester
• He is a world leader in propulsion systems. His expertise covers piston engines for automotive, marine and power generation applications, gas turbines for power generation and aircraft propulsion; and as a rocket scientist his expertise covers rocket propulsion. He has also made significant contribution in the development of renewable and alternative energy technology. His work in the Tribology of internal combustion engines has been acknowledged internationally as ground-breaking. Part of this work has been published in a book by the German Association of Engineers' publishing house VDI Verlag in the German language.
• He reviews manuscripts on internal combustion engine Tribology for publication by Wiley and Sons, as well as books on Aircraft Propulsion for the Cambridge University Press. He is also a reviewer of articles in the Propulsion discipline for publication in over 10 reputable international journals and has published well over 100 peer reviewed journal and conference papers, as well as book chapters.
• He has over the years received numerous awards and citations from the international community. These include the Carrick Institute Citation for making outstanding contribution to student learning, the American Society of Mechanical Engineers' Certificate of Appreciation for valued services in advancing the Engineering Profession, and Certificate of recognition for outstanding Service to the Royal Melbourne Institute of Technology, RMIT as the Founder and Director of the RMIT International Industry Experience and Research Program, and recently he received the Ralph McIntosh Medal, for outstanding service to students. This is one of the highest accolades the RMIT University can confer on an academic staff member.
As an educator, Professor Abanteriba has been a creative visionary. He founded RIIERP in 1992 cognisant of the fact that an increasingly globalised economy needs graduates with an understanding of the differences in work ethics in different cultural environments. RIIERP currently collaborates with about 200 major companies in 17 countries in Europe and North America, and provides students and graduates with unparalleled opportunities to undertake vocational training and research projects at these companies. The program is a runaway success, with more than 2,500 RMIT participants now as graduates making effective contribution to industry and academia around the globe. Professor Abanteriba continues to provide leadership in many areas, be it in education, research or at the helm of the International Energy Foundation, with its 40,000 members in 175 countries.