Augustine Abang
(author and younger brother of Cletus Abang)
Cletus Abang       
(May 1, 1965 – April 25, 2014)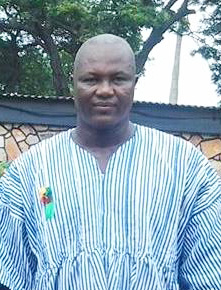 Cletus Abang was born in Wiaga on 1st May 1965 as the eldest of seven children to the late Gabriel Abang of Gbedema and Rebecca Awommiyam from Fumbisi. He had his elementary education at Wiaga St. Francis Primary and St. Martin's Middle Schools between 1970 and 1976. In 1977 he gained admission to Notre Dame Seminary Secondary School in Navrongo where he obtained his General Certificate of Education (Ordinary Level) in 1982 and then proceeded to Sixth Form at Tamale Secondary School for his School Certificate of Education (Advanced Level) in 1984. After Sixth Form he did his mandatory national service as a French teacher at Sandema Junior Secondary School, and worked as an accounts assistant after. Between 1992 and 1996 he studied at the University of Ghana and graduated with a Bachelor of Arts Degree in History. He also obtained a Master's Degree in Adult Education from the same University in 2002, after which he worked for the National Centre for Civic Education (NCCE), rising through the ranks to become its Central Regional Co-ordinator.
As a student Cletus held various responsible positions. At Notre Dame he was a librarian, class prefect and an engine attendant. At Tamale Secondary School he was a sports prefect. At the University of Ghana, Cletus was founding national President of the Association of Adult Education Students, President of Tertiary Educational Institutes Network and National Vice-President of the Bulsa Students Union. During the same period, he convened the Sandema branch of the Bulsa Youth Association. Cletus was not only active at school and university, but in the Wiaga Catholic Mission during vacation, where he took care of the mission's grounds or painted walls of its buildings.
Cletus was a versatile sportsman who excelled in different disciplines and representing his schools and university at various competitions in the sprints, long-distance events and volleyball and football. His passion for football is still remembered in Wiaga as a player of Achoadeka Stars.
As a person Cletus was a loving father and a good and compassionate man. He got on very well with people in his inter-personal relations and always displayed a great sense of humour.
In March 2014, he took his annual leave to spend time with family and friends in Buluk. On 23rd April, he was suddenly taken ill and admitted to Sandema Hospital. Between 8 and 9 o'clock in the morning of the 25th April he departed this life unexpectedly after sharing jokes and laughing with family and hospital staff that very morning. He left behind Cordula Abang, Ivan Abang, Celine Abang, Elsie Abang, Christiana Abang and Mariam Abang. He lived a short life, but a very full one.