Ghanatta Ayaric
David Adeenze Kangah
He was the Physics teacher at my school, Notre Dame Seminary Secondary School, Navrongo, in the early 1970s. I attended his lessons only once, and that was after I had decided to take General Science, the block combination of Physics, Biology and Chemistry for my General Certificate of Education (GCE) Ordinary Level Examinations.
English Language, Mathematics and Science were compulsory subjects in the Ordinary Level Examinations, but in the latter subject students had an option between General Science and Health Science. I should have gone in straight for Health Science because I liked the subject. Besides, it was easier than the other option. But General Science students used to make fun of Health Science students, calling them "sama-sama", the title given to community sanitation, refuse and waste inspectors who were popular employees of the Ministry of Health at the time. I did not want to be mocked, so my sense of false pride and vanity cajoled me into choosing General Science, and that took me to his Physics lessons. It was my first and last Physics lesson with him.
Physics and Mathematics were my nightmare subjects at school. Their contents would not simply stick in my brain. Comparatively, George Orwell's Boxer (Animal Farm) was a better learner of the English alphabet than I was in these subjects even though he never made it beyond the first four letters.
Half an hour before the beginning of the Physics lesson, panic seized me, but I managed to suppress and hide it from my classmates. I was restless because of my common Bulsa identity with the Physics teacher and my zero knowledge in his subject. Was I ready to display this weakness to a young university graduate, a Bulsa like me, and a very good teacher who was much liked by his students? How would he take it if a fellow Bulsa was the worst in his subject? Would it not hurt his pride as a Bulsa? More than disgracing myself, could I afford to embarrass him and make him feel ashamed of me? Despite these fears, I gathered courage and joined the other course participants in form of the science laboratory minutes before the lesson was due to start. But when I saw Mr. Adeenze approaching the block, my courage deserted me. I made sure he did not take particular notice of me. And in the laboratory I sat behind other students and away from the podium, his view in my direction obstructed by my mates and the laboratory equipment. And when he walked around during the lesson using the instruments in experiments to demonstrate and explain his teaching stuff, I placed myself behind the group of eager students who stood immediately next to him. That way I was not going to be noticed. Fortunately he was too engrossed in his teaching to dwell on individual faces, and if he did, mine was not in his immediate view.
At the end of the lesson I fled from the science laboratory, glad that Mr. Adeenze had not taken any particular notice of me, and if he had, there was no indication that the case was so. I dropped General Science that very day and took Health Science instead. The mocking title "sama-sama" did not disturb me any longer. All's well that ends well, to use the title of one of Shakespeare's thirty-seven plays. In the final exams I got one of my best grades in Health Science.
Our paths never crossed after I had left Notre Dame in 1976 but I heard about Mr. David Adeenze Kangah as headmaster of a new school, Zamse Secondary School, Bolga which was thriving very well. From faraway Germany I followed the news of his rise and good work as deputy chairman of Ghana's Electoral Commission. I also read about the honour bestowed on him on his retirement by the late President John Evans Atta-Mills. While on a visit home I met him at the election event of the new Sandemnaab in July 2012, but the occasion did not allow more than "small talk" about what was going on. I wonder if he even remembered his Notre Dame student (I've greyed considerably). My visit was not long enough for me to make time to meet him privately before returning to Germany. The occasion came in August 2014 when I was in Ghana, Buluk, again. I visited him at his Suwarinsa home, and twice at his Bolga home.
I got to know him more. He is an affable person; humble and calm, accessible, full of audacity of hope for Ghana and very concerned about his Bulsaland. I'm delighted to have gotten closer to my former school teacher. An educationist, a prominent national figure and member of Ghana's Council of State (2012), Mr. Adeenze Kangah has distinguished himself not only as a public officer but as an accomplished peace broker in conflict resolution as well, in Ghana, Africa, Asia, and indeed many parts of the world where he was called to monitor elections or share his knowledge and experience in the area.
When conflict arose after the July 12, 2012 Sandema chief election event, it was largely feared the situation would escalate and threaten the peace Buluk has enjoyed over the years, like chieftaincy disputes have done in many parts of Ghana. With patience, diplomacy and expert negotiating skills Mr. Adeenze brought his vast experience in conflict management to bear in that context. The resolution of the dispute and the peace Buluk continues to enjoy are largely attributable to the mediating role of the retired Deputy Chairman of the Electoral Commission.
Mr. David Adeenze Kangah was born on 29th April 1947 in Sandema. He attended Sandema Old Primary and Middle Boarding Schools before proceeding to Tamale Secondary School where he did his General Certificate of Education Ordinary Level and Advanced Levels School Certificate. He obtained his first degree, Bachelor of Science Honours in Physics and Mathematics, at Cape Coast University, Ghana in 1972. He holds a Master Degree in Conflict Resolution from Antioch University (McGregor School) Ohio, USA.       
After graduating from Cape Coast University, Mr. Adeenze taught Physics and Mathematics at both Notre Dame and Navrongo Secondary schools. From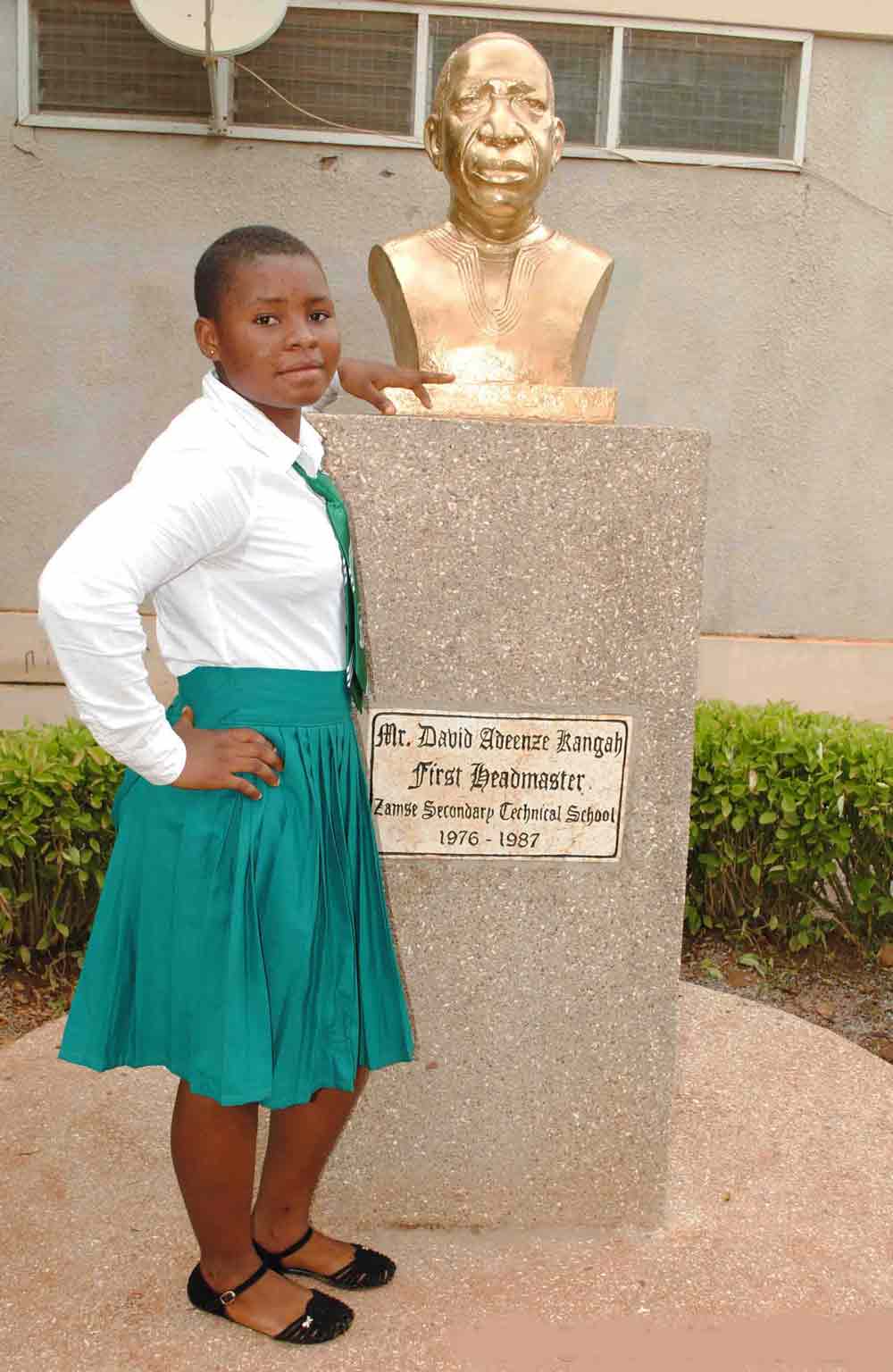 Bust of Mr. Akangah in front of Zamse Secondary Technical School
Navrongo he transferred to Bolgatanga where he was instrumental in the establishment of Zamse Secondary Technical School whose pioneer headmaster he was from 1976 to 1987. As chief administrator of the school, he was responsible for planning and designing appropriate syllabi for the school. His duties also involved the development of teaching and simulation manuals for theory and practical teaching. In addition he was in charge of recruiting and managing the human resource base of the school as well as its general administration. In recognition of his outstanding achieving, starting and establishing Zamse Secondary Technical School as one of the best schools in North Ghana, Mr. Adeenze Kangah has been honoured with a bust of his person in front of the main school building, an honour only few people receive in their life time.
From Zamse Secondary School he went on to head Navrongo Secondary till 1993. He performed similar duties as those at his former school but in a much bigger context. Unlike Zamse Secondary Technical School, Navongo Secondary was an all boarding sixth-form school with very senior students and a total population of over 2,000 students!
During his years at Zamse and Navrongo, postgraduate diploma and certificate courses in Science Education and Educational Foundations took him to Chelsea College and the University of Leeds in the UK respectively.
Between 1988 and 1993, he was a member of the National Commission for Democracy (NCD) and the Interim National Electoral Commission (INEC) as well.
In 1993, Mr. Adeenze Kangah was appointed Deputy Chairman of Ghana's Electoral Commission (EC), a post he held until his retirement in 2012. The period witnessed Ghana's return to civilian rule after 19 years of military rule under Rawlings, so the enormity of the task as one of the two chairmen of the Electoral Commission was mountain-high! The position was a full time management job which involved the formulation of policies for the Electoral Commission. As the deputy chairman in charge of finance and administration, he was responsible for the human resource and financial management of the Commission. He consulted with other management team leaders, especially, to establish internal 'democratic practice'. His area of work included ensuring that the operations of the Commission were in compliance with the law. Human resource management and development were under his purview, as well as supervising the designing, implementation and co-ordination of operational programs and monitoring of political party activities towards enhancing good governance in Ghana and the image of the Electoral Commission.
As a key elections administrator, the deputy chairman's functions also included advising on measures for the demarcation of electoral boundaries, reviewing of legal and institutional frameworks pertaining to electoral issues, representing the commission on strategic programmes aimed at improving and sustaining the image of the EC, logistics planning (financial implications), material procurement, general preparations for holding various public elections and post-election activities as well as election observation.
Space would not allow all the international assignments Mr. Adeenze undertook as Deputy Chairman of the Electoral Commission to be listed fully. Some of these saw him functioning as a consultant, resource person, trainer, facilitator, ECOWAS representative and Commonwealth observer in many countries: Nigeria, Liberia, The Gambia, Jamaica, South Africa, Burkina Faso, Zimbabwe, Sierra Leone, Congo Democratic Republic, Cameroon, Spain, Britain and the United States of America among others.
He received the following professional and honorary awards for outstanding achievement:
British Council Graduate Award (1975), a graduate award for outstanding science teachers who undertook a study tour of institutions in Britain (England and Scotland); under the supervision of the University of London.
Ghana Association of Teachers award (1993)
Annual award to Teachers (and Headmasters) for distinguished service
Proclamation by the Mayor of Newton City (Iowa State, USA) (1991)
A resolution which recognized and honored him as a distinguished citizen of Newton City (IOWA) USA
Mr. Adeenze Kangah has the following publications and presentations to his credit:
• Traditional Conflict Resolution Processes and Mechanisms (Ghana, September 1998)
• The Ghana Electoral Process, Mombasa Conference, June 2000
• The Source and Nature of Monitoring and Implementation Problems Facing the Electoral Commission, Ghana (unpublished presentation)
• Reporting Fairly and Accurately on the Forthcoming Elections, Keynote Address
• British Council-Kumasi (unpublished presentation)
• The Ghana Electoral Procedures - from Voting to the Declaration of Results, August 2000
• The State of Preparedness of the Electoral Commission for Election 2000
• IEA programme, April 2000
• Election Reporting, How to Ensure Free, Fair, Accurate, Balanced and Responsible Media Coverage (unpublished presentation)
• Election Dispute Adjudication (unpublished presentation)
• Analysing Election results (unpublished presentation)
• The Role of the Election Observer for a Credible Electoral Process (unpublished presentation)
He is a former and present member of the following professional associations:
• Ghana National Association of Teachers (GNAT) - National Executive Member / Regional Chairman
• Conference of Heads of Assisted Secondary Schools - National Executive Member, Regional Chairman
• Ghana Schools and Colleges Sports Federation - National Chairman
• Society of Professionals in Dispute Resolution (SPIDR, USA) – Member
• Ghana Alternate Dispute Resolution Association - Interim Chairman
• Association for Conflict Resolution (ACR) USA - Member
His current engagements include the following:
Farming (includes cultivation of mango, soya bean, maize and cattle rearing)
Peace-keeping and conflict resolution
Membership in the Council of State of the Republic of Ghana (2012)
Father of eight children, Mr. Adeenze is married to Paulina Abayom Kangah, a teacher by profession. The couple lives in Bolgatanga. Ghana and Bulsaland are very proud of Mr. Adeenze Kangah's dedicated service and outstanding achievements. May he continue to enjoy good health and put his knowledge and vast experience at the disposal of country and people!