Ghanatta Ayaric
Maaka e.V. Contributes to Development in Gbedema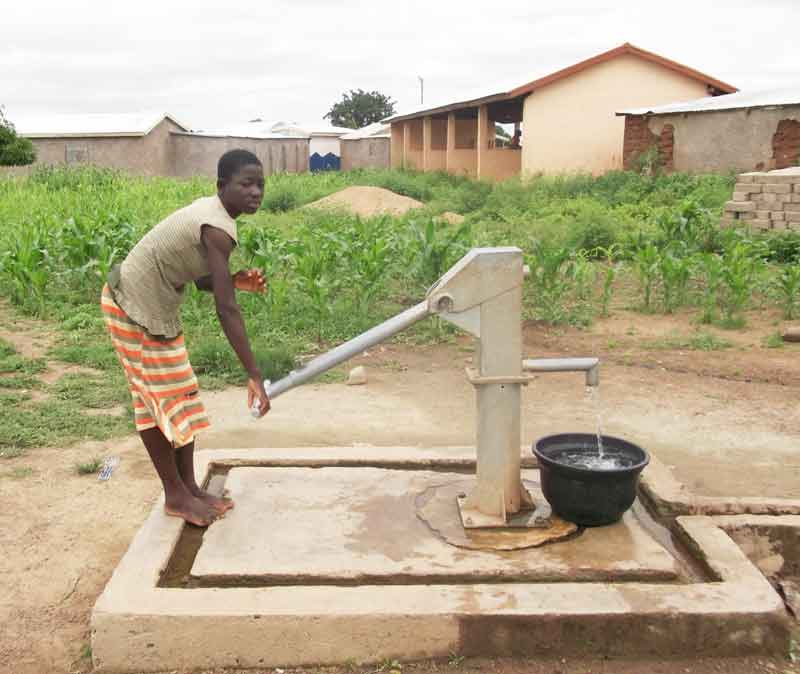 Water flowing from the new pump
The German Münster-based charity group, Maaka e.V., sponsored the provision of a borehole in Gbedema. Drilled in April 2014, the borehole is the fifth in Gbedema and serves more than a 1,000 people of a total of nearly 4,000 inhabitants.
Located within the market vicinity, the borehole provides residents in the direct neighbourhood as well as traders and visitors to the market, on market days especially, with potable water.
The pump with its water collecting facility for animals
If one considers the fact that traders and people attending the market come mostly on foot, some from distant sections like Kunkuak, Balerinsa and Zeng, then the facility is more than a welcome relief. The provision of a basic necessity like water improves the quality of life in diverse ways: washing, watering small dry season vegetable gardens, and drinking water for both humans and livestock - goats, sheep, cattle…! It is hoped that with time, more boreholes will be provided in all communities and will complement the traditional well, the good quality of whose water cannot always be guaranteed, apart from the fact that many of these wells do not have protective covers over their openings.
In another development project, Maaka e.V. also played an intermediary role on behalf of Peter Visher Grundschule in Dortmund whose pupils donated money for the provision of two computers to the Gbedema primary school. The HP desktop computers were bought in Bolgatanga by Pascal Ayaric and presented to the primary school via the Chief of Gbedema, Nkrumah Aparingchang Ayaric, and a member of the village development committee, Auntie Antugfinying. The school was on vacation and the headmistress who was to receive the items was out of town. The pupils of the school have already been introduced to basic computing by the American Peace Corps teacher, Ms. Stephanie Carey, who taught mathematics and computer science at the school during the academic year of 2011 /2012.
Presenting the two new computers.
From left to right: Ghanatta Ayaric, Atugfinying, Chief Nkrumah Ayaric, Gabriel Anaab